The longer I'm a photographer, the nerdier I become.  In an industry fueled largely by cameras, computers and a variety of other electronics I have to keep up to date with technology.
There's always a bigger screen, faster lens, or a new camera on the horizon and part of my job is being able to decide what's really worth purchasing and what's just another bit of media hype.
Social media outlets like Facebook and Twitter are an integral part of my business, and using them also requires learning about the latest tools to connect with clients (or, in reality how to make the best of the changes they continually roll out.)
I am a loyal user of Google's web browser, Chrome, and have gotten so used to it's clean design and easy to use interface that I get downright angry when I'm forced to use something like Internet Explorer (See? I told you I'm a nerd!)
When Google rolled out their own social networking site, Google+, I was eager to see how it worked.
My fabulous graphic designer David was kind enough to send an invite my way and I've slowly been getting acquainted with how things work on the site.
Google+ is a place where you can simultaneously share photos, chat with friends, and even video conference with several people at a time.
Check out this overview for a better idea of what the different parts of Google+ do.
I haven't gotten to try out all of the functions out yet, but I think that once the site catches on and more people join it will be amazing.  The ability to sort your friends into different "circles" and keep what you share with your grandma separate from what you share with your college friends is an interesting feature that I think will appeal to plenty of young people.
Although I sometimes gripe about Facebook constantly changing things, the bottom line is that it is still my absolute favorite website.  It has done amazing things for my business and ability to know what all my friends are up to at all times is really helpful for semi-hermit such as myself.
If you're also a Facebook fanatic, then you'll probably be interested in this side by side comparison to Google+
Alternatively, if you hate Facebook and can't wait to ditch it for something else, then you'll enjoy reading these 9 reasons to switch over to Google+.
Either way, you can visit the Google+ demo site and see if the site is something that would work well for you in your personal and/or professional life.
Currently access to Google+ is limited, so if you'd like an invitation to join Google+ feel free to leave a comment on this post with your email address and I'll send one your way!
Here are a few screen shots to give you a better feel for the site.  Enjoy!
XOXO,
B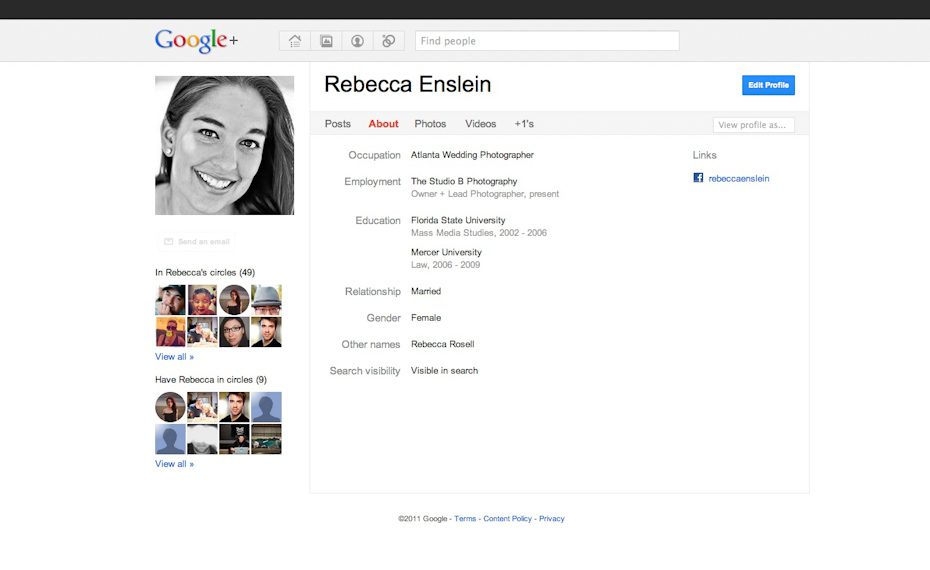 This is what my profile page looks like.  You'll notice it's very similar to what a Facebook profile looks like, only much less cluttered.

 Here are the circles that I have at the moment.
We photographers are notorious early adopters, which is why that circle is so much larger than all the other ones right now.

This is my "stream" of information, which is basically the same thing as your Facebook newsfeed.
If you are already on Google+ and want to invite your friends to join you, just click on the "send invites" link you see on the right side of the screen.